Dr. John Emhardt
Dr. John grew up in Indianapolis, IN and received his bachelor's degree from DePauw University. After completing his undergraduate degree, Dr. John obtained a master's degree in Biology from Purdue University.
Dr. John attended Indiana University Dental School in Indianapolis where he discovered his passion for pediatric dentistry. He continued his dental education by completing his pediatric dental residency at the Indiana School of Dentistry and Riley Hospital for Children in Indianapolis. He received advanced training in caring for medically complex patients and those with special healthcare needs. He also completed a master's in science in dentistry for his research, "Significant Factors Related to Failed Pediatric Dental General Anesthesia Appointments at a Hospital Based Residency Program".
During his residency, he was selected to participate in the Leadership Education in Neurodevelopmental and Related Disabilities (LEND) program, and during his second year he served as Chief Resident. Upon completion of his training, he received the prestigious Ralph E. McDonald Scholar Award for his outstanding performance in pediatric dentistry.
After his residency, Dr. John was selected for the Indiana Dental Association's AIR Leadership Program, and is focused on promoting children's oral health at a local and state level. He is part-time faculty at Riley Hospital's pediatric dentistry residency program, and he is board certified by the American Board of Pediatric Dentistry.
Dr. John's safari themed office was inspired by his trip to Kenya in 2010 when he had the opportunity to travel to Eldoret, Kenya during his first year of dental school. In Eldoret, he partnered with the Moi University School of Dentistry to provide oral health screenings and to identify water sources with high levels of fluoride. He enjoys playing tennis, reading, mountain biking and cheering on the Colts, Pacers and Indy Eleven!

Jeanette Whalen
Jeanette is our office manager and is well versed in front office coordination. If you ever have a specific insurance question or scheduling conflict, please ask for Jeanette when calling!
She began her career in the pediatric dental field over 30 years ago on the East side of Indianapolis.  She loves to interact with our young patients and families. She will be happy to assist you and your family in any way to make your experience a great one!
Jeanette and her husband Steve have been married for 34 years and she has two children Lynnette and Bernadette and two grandchildren. She feels fortunate to have lived in Shelby County for the last twelve years. She loves spending time with family and friends and she enjoys sewing, hiking, camping, and pretty much anything outdoors.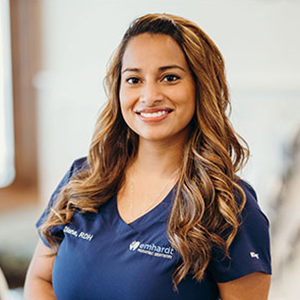 Diana Thomas
Diana is our Dental Hygienist who graduated in 2014 from Ivy Tech in Anderson.  She truly finds it rewarding caring for our patients, easing their fears, and setting them up for a lifetime of great oral hygiene. She found her passion in pediatric dentistry since graduating.
Diana moved to Shelbyville in 2009 after marrying the love of her life Daryl Thomas. Together they have 3 daughters named Mia, Ezri, and Giselle.  Diana enjoys spending time with family, baking, going to church, and tackling extreme DIY projects like building their home from the ground up!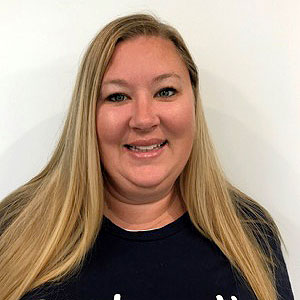 Britney Plymate
Britney is one of our amazing dental assistants who also helps at our front desk. She has worked in the dental field for over 13 years, with experience in general, oral surgery, and 2 years as an orthodontic assistant. She is excited to now call Emhardt Pediatric Dentistry her home.
Britney lives in Fairland, IN with her husband Tim, daughter Taylor, and son Tucker. Britney and her family love spending time with friends cooking out, around a campfire, or at a racetrack. They are proud members of the Fairland community where Tim serves as a volunteer firefighter.